Home
High Flow Systems Chlorine Lead
Std Systems Chlorine Lead Iron
Whole House Chloramine Systems
Well Water Systems Iron & Odor
UltraViolet Systems for Bacteria
pH Systems for Acidic Water
Hot Water Housings & Filters
Large Capacity Water Softeners
Sediment Housings 10" & 20"
4.5" x 20" Carbon Filters
2.5" x 10" Carbon Filters
2.5" x 10" & 20" Sediment Filters
Large Undersink & 4.5" x 10" Filters
O-rings Brackets Wrenches
Privacy Policy
Return Policy
Favorite Links
Large Capacity Water Filter Housing P/N: LCH10 $54.95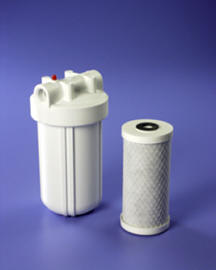 Large 1" NPT inlet / outlets for full flow. Filter housing is 14" tall x 7 1/4" across at threads.
Filters for the LCH10 are listed to the right of this message.
This is an excellent under sink water filter.
The only filter to allow you to use your present cold water faucet and maintain a 3 GPM flow.
Special faucets are not needed.
Installation is simple.
Just connect to your present cold water line and filter all your cold water using your present faucet
.
Housing
Bracket
Wrench
LCFMX1 - Maximum Life Filter - 0.6 Micron, 70,000 gallon chlorine reduction

LCFNH2CL - Chloramine filter, Highly effective catalytic carbon effectively removes chloramine. Catalytic carbon is more effective than coal or coconut based carbon.

LCF385 - Well Water Filter - 5 micron, 20,000 gallon, remove iron and hydrogen sulfide.

LCFMX5 - Removes Chlorine, 5 Micron, 20,000 gallon capacity. Coconut shell carbon.

LCFPb1 - Lead Removal, 1 micron, 8,000 Gallons / 2+ years in an under sink application

LCFCTO - 10 micron, 12,000 gallon chlorine filter. Good for high sediment plus chlorine removal.

Filter dimensions: 4.25" Diameter x 10" Tall

Sediment filters are available in 1 and 20 microns. Order by the case(9 filters) and save 25%.

LCF1 - 1 Micron sediment filter

LCF20 - 20 Micron sediment filter
Sediment Filters
Need a different micron filter?
Call us, we manufacture filters from
1/2 micron(slightly larger than bacteria) to 100 micron(the size of a single grain of salt).